Little revelations
I'm not always thrilled to find that something I've collected is made from something altogether different than what I thought it was — or what the tag said it was.
Two perfect examples of this have cropped up in my basket collection recently. I thought both of them were pine needle coil baskets. I and the folks who tagged them in the respective antique shops I bought them from were wrong. I'm not upset though. These are the kind of mistakes a collector can come to enjoy...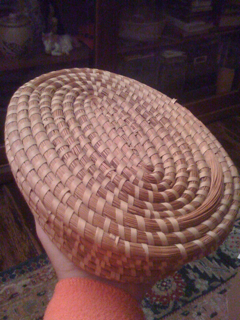 The first one I've had for a few years now. If I recall correctly I picked it up in an antique shop in Wheeling, West Virginia. Turns out it's a sweetgrass basket. A beautiful oval basket with well fitted lid. It has a few condition issues. Most notably, some of the palm strips used to wrap the sweetgrass have broken and fallen off the basket. It's still in wonderful shape and I paid nowhere near market value for a Gullah basket. Quite a nice find.
The second is a more recent purchase and a much larger basket. It too was tagged as a pine needle basket by the seller. I found this one in a favorite antique store not far from Massanutten, Virginia. It has roughly a beehive shape with again, a nicely fitted lid. I'll need to get a couple good photos to post. This one is most assuredly a rye basket. Rye with oak lashing possibly. This one was an even better purchase. Quite a steal for the condition and type of basket.